Turn Your Picture Into A Rotoscope-Style Painting.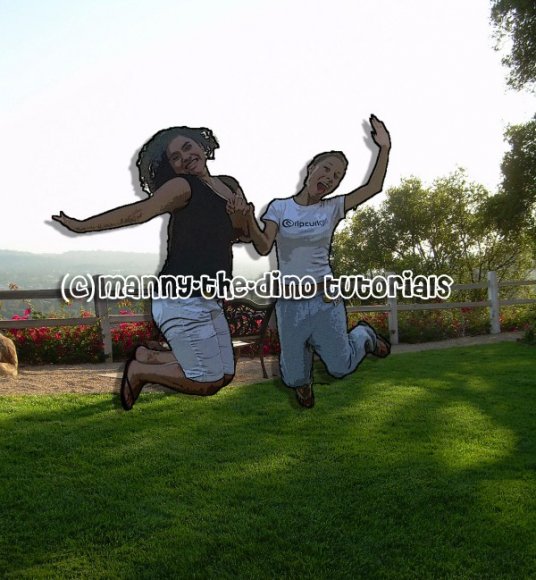 Tutorial
Click on thumbnailed images to enlarge
**NOTE**
I did this tutorial in Photoshop CS3 Extended which is why some of you

may

have problems. However, that

does't

mean this tutorial won't work in other versions of Photoshop. Just try it out.
okay so for this tutorial, i'm going to use a picture of me & my bffae (best friend forever and ever) jumping. this is the original: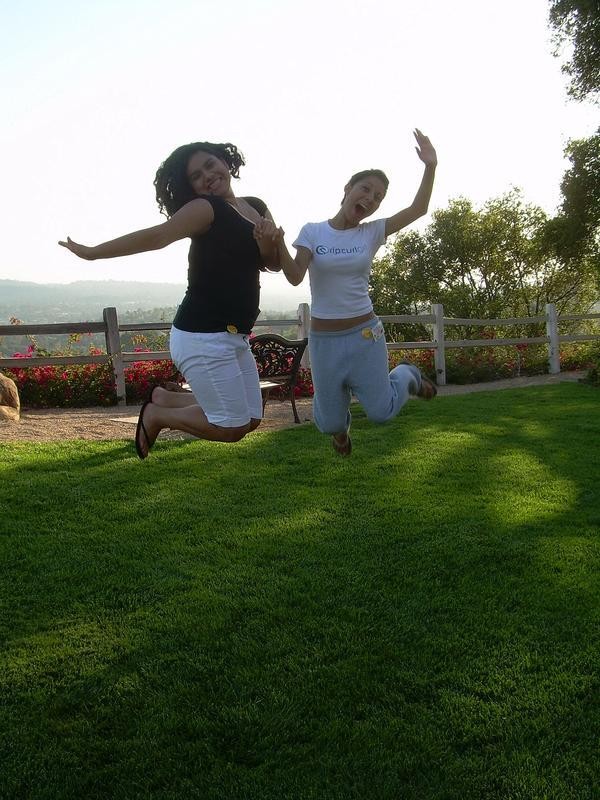 & this is the final product:
now let's get started, yeah?
001.open up your image in photoshop. i would recommend one where there are 2 or more people in it like my picture.
002.then select the Quick Selection Tool from your toolbar.
003.now start selecting the object you want to apply the effect to. for my picture, i chose me & my bffae.
004.& let's say it selects something extra. like the example below...
005.well don't worry because all you have to do is select the subraction part of the Quick Selection Tool, which is located at the top, under your menu bar.
006.okay so then after you have selected your items, do a crtl+j. (which copies the background layer)
007.then go Filter>>Artistic>>Poster Edges.
008.after that is done, add a layer style (select "stroke"). just do what is shown in my screenshot.
009.a window should pop up. use the settings i used:
size: 3px
position: center
belnd mode: normal
opacity: 100%
fill type: color
color: black (if the color is some other color, click on it, & choose black)
010.then go to the "drop shadow" section & use the following settings:
blend mode: multiply
opacity: 40%
angle: 30
use global light: check
distance: 30px
spread: 0%
size: 5px
011.press ok & now you are done!!! yay! your final product should look like this:
If you got lost or have any questions, comment the tutotial & I'll get back to you as soon as I can. :D
Tutorial Comments
Showing latest 6 of 6 comments
my whole body isn't selecting ither
i keep messing up when your selecting things it wont select the whole body so then i dont know how to do it.
by the way nice pic!
is there anyway i could download the tool quick seletion cuz i had the cs3 extended trial and now my dad bought me cs2 n i hate havin to use the poly thingy so please tell me
shame that I don't have Photoshop:(
cool!
Tutorial Details
| | |
| --- | --- |
| Author | manny-the-dino |
| Submitted on | Aug 25, 2007 |
| Page views | 33,615 |
| Favorites | 74 |
| Comments | 6 |
| Reviewer | Clashing |
| Approved on | Aug 25, 2007 |
Tutorial Tags