Tutorial
Click on thumbnailed images to enlarge
1.Choose a word you would like to change into different colors.
(I chose the word Welcome, and the font Baby Kruffy, Size 60pt)

2. Then Duplicate the layer twice (you can duplicate the layers more than that but i suggest just two more layers).
3. Then chose at least 3 different colors.
4. Change each copy of your word into one of the colors you have selected.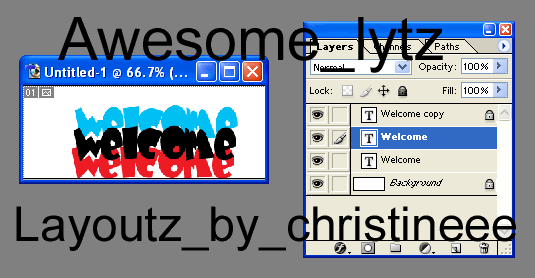 5. Make sure the copys all overlap eachother.
6. Then Jump to Image Ready.
7. On the bottom of the screen, you'll see a little box with animation, Image Map, and Slice. Duplicate the current frame 2 times, you'll get 3 frames.
8. On the first frame, hide two of the other frames, for the second, hide two of the other frames, ect. SO you'll then see three different colors for three different frames.
9. Then chose how long you want your frames to play.

10.Click Play

11. LASTLY,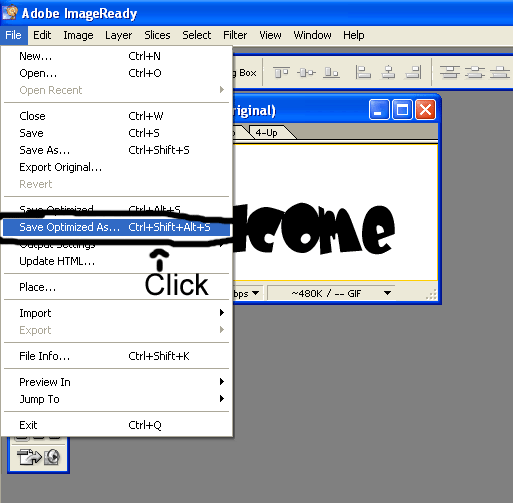 Here is my creation:
Cool, right? :]
Tutorial Comments
Showing latest 4 of 4 comments
OMG OMG OMG, i've been trying to work this out forever. :D
thankyou!!!!!!
how do you do that with picture
i CANT FIND THE ANiMATiON BOX FOR NUMBER 7 ON PHOTOSHOP.CAN YOU POST A PiC?PLZ
No offense but I didn't really like the tut all that much.
Tutorial Details
| | |
| --- | --- |
| Author | awesome_lytz |
| Submitted on | Sep 2, 2006 |
| Page views | 43,274 |
| Favorites | 89 |
| Comments | 4 |
Tutorial Tags