Tutorial
Click on thumbnailed images to enlarge
This is how to add those little splashes of colour in some places. So first off get a picture
to put colour bubbles on, I'm using the one beneath.
[/img]http://i277.photobucket.com/albums/kk42/4crao/start1.png[/img]
Now make a new layer, and click on the Brush Tool. Change the settings to the ones below.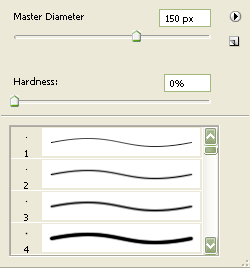 Now choose any colour, I chose the colour #e011ff. Now click on the pictures once and/or twice.
Now set the layer to lighten. And you're done. Now add brushes,text or whatever and save it.
Mine turned out like this: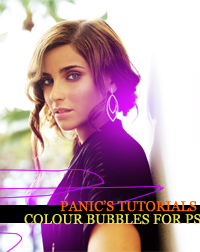 If you have any questions or anything else feel free to ask. =D Comment also!
Tutorial Comments
Showing latest 10 of 10 comments
DANG SIMPLE HOT ;D
Thank you! GREAT TUTORIAL!
The result is nice. :P
this is awesome since it's simple and you can remember the steps in your head lol .
=P
oh you know what!! i was trying to remember how to do this... but then i saw your tutorial here and i got it again!! thankss!! what was messing me us was the hardness of the brush,, since it had to be to 0 mine was like 100.. i was like... why isent comming.. but, yeah.. anyways.. lol.. thanks!
thankyou
i love this.
fantastic job.
if i do say so myself....

Nice
can i use this and how??
hmm, already a tutorial like this, but i like how the done product looked. (: