Tutorial
Click on thumbnailed images to enlarge
NOTE: please note, if you are impatient or unfamilliar with photoshop then this tutorial is not for you!
This is a tutorial to make this into this: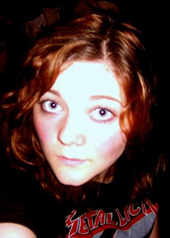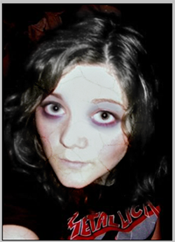 CREDITS:
to create this effect i used the following brushes and textures:
brushes
1
2
Textures:
1
[/u]

THE TUTORIAL:
[/u]
1] select the image ou want to edit, i have chosen this picture of myself: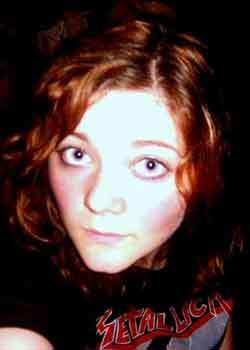 2] select any skin in the picture, including arms ect, but make sue you
deselect
the eyes, my selection looks like this: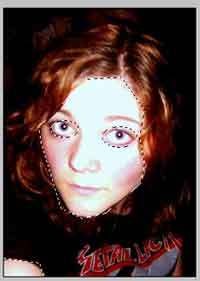 3] Feather the selection by 10 pixels (Ctl+Alt+D) Go to the hue/saturation menu (Ctl+U). Take the saturation down until the skin looks grey. You can also edit the brightness depending on how you want your image to look.
4] (this step is otional) If you wish, select your hair also, and feather that by 10 pixels again. You acn chnage the brightness, saturation and even hue on yours. I used these features to make my hair black, this is how mine looks now: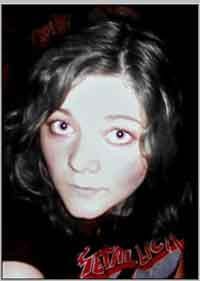 5] select the coloured part of your eyes, and feather (Ctl+Alt+D) the selection. For this i made my eyes black, however you may want to go slightly more demonic and make them red.
6] open the texture i linked you to at the start of the tutorial, resize it as you like, but be sure that it covers every section of skin on show. Choose an overlay style for it, personally i think "color burn" looks best but you may find another style works better for you, then take the capacity down to around 50%.
7] Delete any texture that does not cover the skin and this can create a dirty effect on the background.
Also be sure to erase any texture covering the white of your eyes. This is how mine looks at this stage: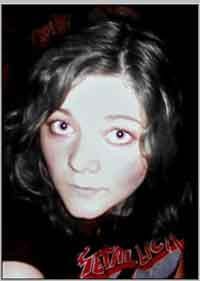 8] this is where the brushwork begins :) Open a new layer, I find the eyeshadow brush i linked you to at the start works best, but you can make a selection and color that if you prefer. For this i chose to use a dark purple to create bags around the eyes. Try using a few layers choosing different capacities and overlay styles, i find the "multiply" or "overlay" style generally gives the best effect, but with a fairs low capacity. I find this is a great opportunity to be really creative! just make sure your eyes are still white and not purple or red! This is how mine is looking now :)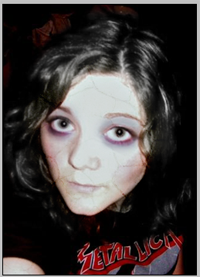 9] This is the final part of the tutorial, adding scars and cuts. For mine i used the "stitches" brushes that are linked at the top of the page. I chose to use red as the color of my cuts. Make sure you do this on a new layer! As before pelace the brushes where you think they look best, as a tip i would say always put one on your lip, this gives a very good effect. Once all the stitches are in place on seperate laters mess with the capacity and overlay styles. i find they look best without an overlay styles and a capacity of about 65%. Once you are happy with what you have doine save your image as a high quality PNG. This is how mines turned out, i hope you are happy with yours :)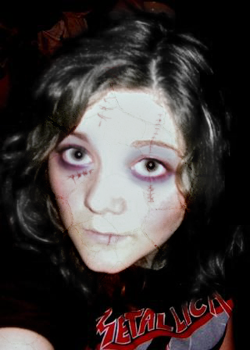 Here are some other examples of what i have made using this tutorial:



Tutorial Comments
Showing latest 10 of 12 comments
cool! :D
Hey could you send me the links to the brushes you used.
thanks.
i got to the last part.
BUT i cant see the brushes! =]]
PLEASE HELP ME SOMEONE!
this is awesome.
ohwait, i know how to make a new layer now but how do you make a new brush?
i`m going to try this !
i LOVE this tutorial.

but im like, ameteur. D;

how do you make a new layer?

i have adobe photoshop 7.0?
pretty cool.
omfg this is great >.
omg.
i love this !
View all »
Tutorial Details
| | |
| --- | --- |
| Author | SammyTheHeadbutt |
| Submitted on | Aug 17, 2008 |
| Page views | 24,088 |
| Favorites | 57 |
| Comments | 12 |
| Reviewer | schizo |
| Approved on | Aug 17, 2008 |