Tutorial
Click on thumbnailed images to enlarge
Well your Finished Result will look like this--->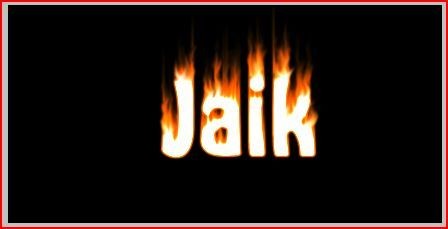 Sweet Eh?
1. Well Start off with a new text box. Im gonna Use something Random, yet original. My Name. Make the Text White, and the Background black. Heres Mine--->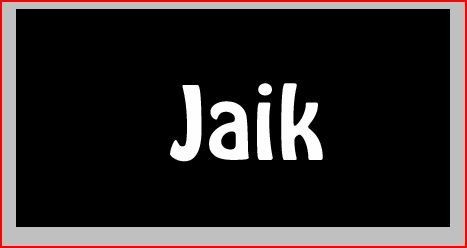 2. Now If you want the fire to be normal fire and point up you will need to Turn the Canvas Counter Clockwise 90 Degrees. (Image > Rotate Canvas > 90` CCW) If you did it right the whole thing will just be turned on its side Counter Clockwise.
3. Now We Will need to Make the Flame Points. Go to wind filter. (Filter > Stylize > Wind..) Now make sure your Settings are on Method- Wind, and Direction- From Right. or it will not work right.
You can make the points of the flame bigger or smaller by pressing (Ctrl-F) And if you make it too big use Undo (Ctrl-Z) to remove the last step. i did the wind Style 2 Time and this was my result up to this point --->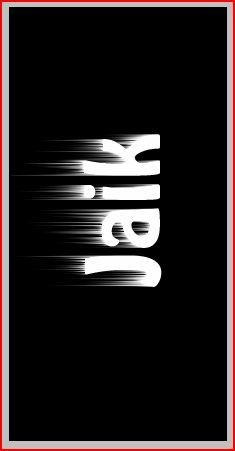 5. Now we will need to blur the text a little bit to make it look more like fire. Select you Main layer and use a Gaussian Blur. (Filter > Blur > Gaussian Blur) Now you can mess with the Pixels Radius depending on how big your flame is but i used 1 Pixel. (It didn't blur it to the point when you couldn't read it.) This is what mine looks like so far--->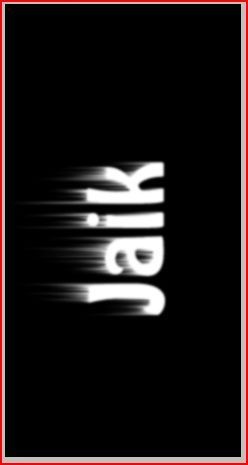 6. Now we need to rotate it back to the way it was.
(Image > Rotate Canvas > 90' CW)
7. Now we will be adding the orange part of the flames. Open the Hue Saturation Menu (Ctrl-U) Make Sure your Settings on your mimic exactly the setting in this picture. Hue- 35, Saturation-100, MAKE SURE THE COLORIZE BOX IS CHECKED! The Box and Preview should look like this--->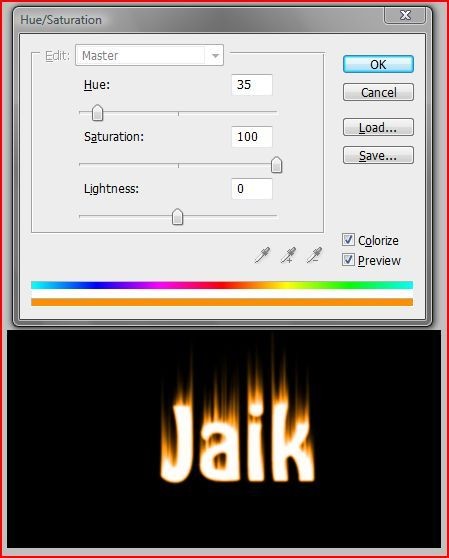 8. Now we will add the Red Part of the Flames. But first we need to make a duplicate layer. Select all (Ctrl-A) Now Copy the layer (Ctrl-Shift-C) And paste a new layer (Ctrl-V) It should look exactly the same. Now Open the Hue and Saturation Menu again (Ctrl-U) Now make sure your settings match mine exactly. Hue- -38, Saturation- 0, MAKE SURE THE COLORIZE BOX IS NOT CHECKED THIS TIME! It should look like this--->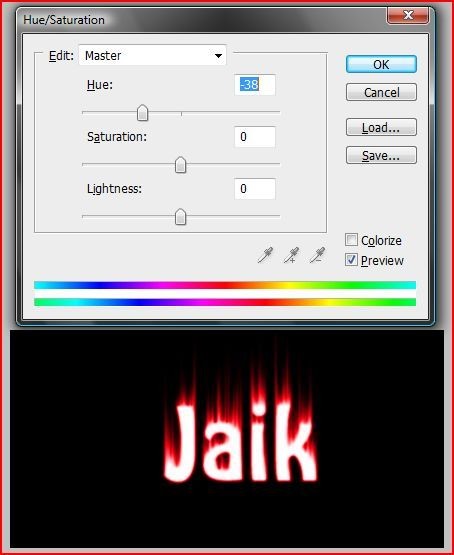 9. Now we need to make the Layer we just made Red (Layer 2 for me) Dodge Colors. Go to (Layer > Layer Style > Blending Options) In the Blend Mode Drop down menu Chose the Color Dodge Option. Then Press ok. Now Right Click on your layer 2 bar, in the Layers Menu, and click on the option that says 'Merge Down' Yours should look something like This--->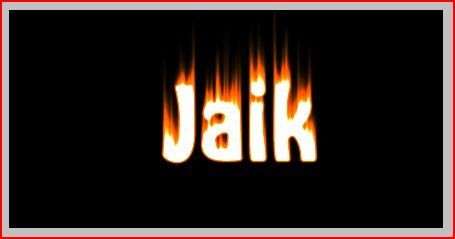 10. Now we will make the Flames look more realistic and Wavy. Choose the Smudge Tool (Right click on your blur tool [Looks like a raindrop] and chose the 'Smudge Tool' Option. Now click and drag on the base of each of the flame points and drag to the top of the flame in a wave pattern. if you need ideas of what to make them look like heres my project so far--->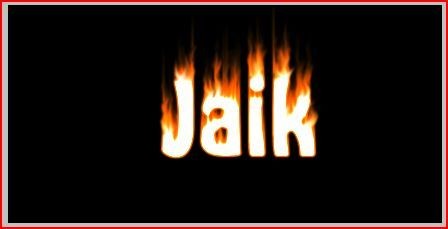 I like it... A lot.
11. (Optional)Well if your like me and don't want the black background, there's a nifty little tool called 'Background eraser tool' To use this Right click on the eraser tool and chose the One Titled, You guessed it, 'Background eraser tool'. now just make a really big diameter such as 123 (What i used) and just click on all the black area on your canvas. as long as you only click on the black area it will delete all the black on it, and keep your finished project in perfect condition. Mine Looked like this--->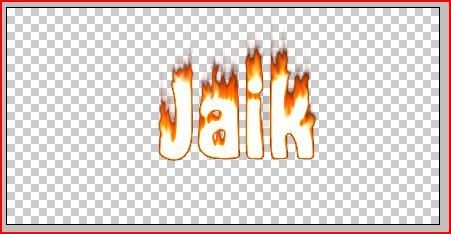 Well That was easy wasn't it?! Now you can also mess with it and do a lot of different things to make it darker, or lighter. Such as Changing the Exposure (Image > Adjustments > Exposure) and mess with that a little bit. Well i hope you enjoyed it! If you need help or have any questions or comments, feel free to contact me in any way. Thanks =D
-JBS
Tutorial Comments
Showing latest 3 of 3 comments
lol . thats hott
thanx =] made it into an animation, cheers
Thanks, lovely tut.
Tutorial Details
| | |
| --- | --- |
| Author | JBS |
| Submitted on | Aug 6, 2008 |
| Page views | 14,113 |
| Favorites | 47 |
| Comments | 3 |
| Reviewer | manny-the-dino |
| Approved on | Aug 6, 2008 |