Tutorial
Click on thumbnailed images to enlarge
This is my first tutorial so please bare with me. I realized there wasn't a tutorial for downloading fonts so i decided to make one. Here goes.....
Step 1: Find your font from a website. I like to use fonts from <ahref="http://www.dafont.com</a> because they have a wide variety.
Step 2: After choosing which font you want click download.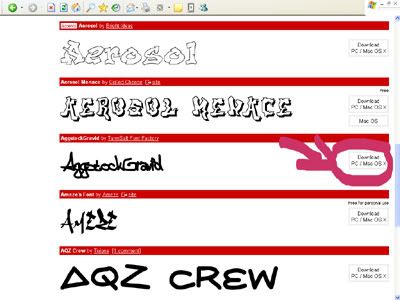 Step 3:Soon you'll see a a box asking what you want to do. It will have three options you can either OPEN, SAVE, or CANCEL. Click SAVE.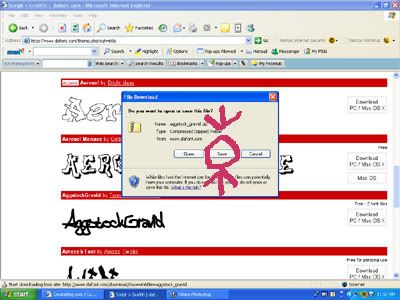 Step 4: Now you'll see another box asking you where you want to save your font. First go to
Local Disc C
Program Files
Common Files
Adobe
Fonts
Then click save.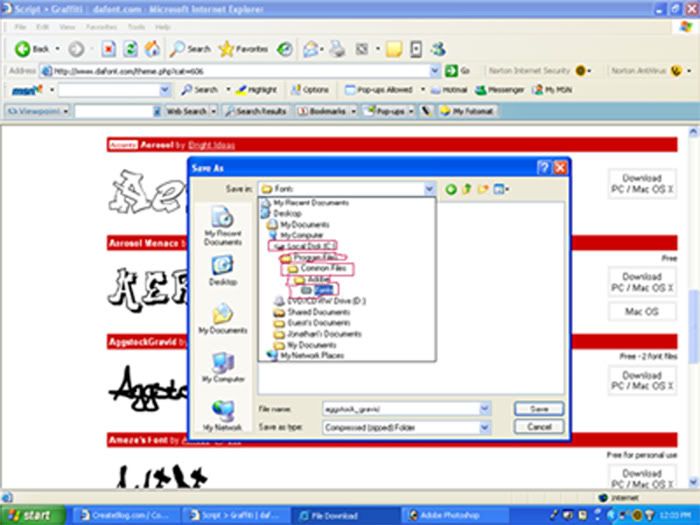 Step 5:When the download is complete you will see yet another box on the screen asking you if you want to OPEN, OPEN FOLDER, or CLOSE. Click OPEN.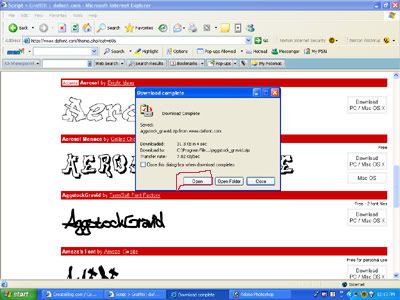 Step 6: When it opens you'll see a box with somethings in it. all you have to do is click extract files which is on the left side under Folder Task.
Step7: An extraction wizard should come up. Just keep clicking next and finish.
Step 8: When thats done. You will see what you downlaoded. It should look somewhat like this.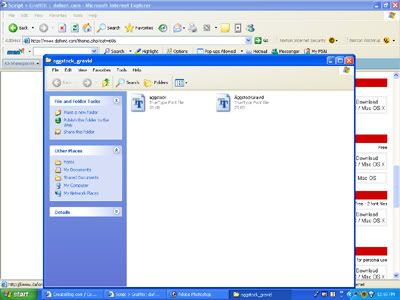 Step 9: You can close it and all the other windows that were opened including the website you won't be needing it anymore.
Step 10: Now open Adobe Photoshop.Go to File Browser.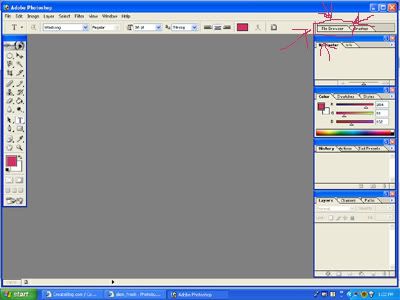 Click
My computer
Local Disc C
Program Files
Common Files
Adobe
Font
Then click the font that you downloaded. Right click and open file.
Step 11: Now just look through your fonts and your font should be there. Look through the whole list of fonts because sometimes it isn't in alphabetical order
I hope this Tutorial helped you out.
And if you have any questions about this just PM me and i will be glad to help you.
Tutorial Comments
Showing latest 10 of 18 comments
thank u worked great!!!!
uhh i use CS, and it doesnt work for me
>___<
HELP please
Its different for CS3 users. If you use vista and CS3, the font folder is in C:>Program Files>Common Files>Adobe>Fonts. After you saved and extracted the font, right click and click install. It should install automatically. For you use XP and CS3, just drag and drop the font in your font folder.
step #3 doesnt work for me .
it appears a whole different box .
a box daht says sumthing like this ;;
open with "option" .
or save to disk .
uh plz help ! i cant find file browser its not there ! i use photoshop CS3
Can you do this in Coral paintshop?
u are a genius :)
thank u so much!
THANK YOU SOOOOO MUCH!
(been going a tad crazy trying to figure it out!)
shhhh.....
when i go to file browser and right click the font, it said its valid.
well.. ii did everything u said to do.. but.. when ii open it.. it doesnt show anything...
View all »
Tutorial Details
| | |
| --- | --- |
| Author | alien_freek |
| Submitted on | Jun 2, 2006 |
| Page views | 41,758 |
| Favorites | 89 |
| Comments | 18 |