Tutorial
Click on thumbnailed images to enlarge

You have your image on Photoshop. You transfer it to Image Ready. You select the Rectangle Image Ready Tool.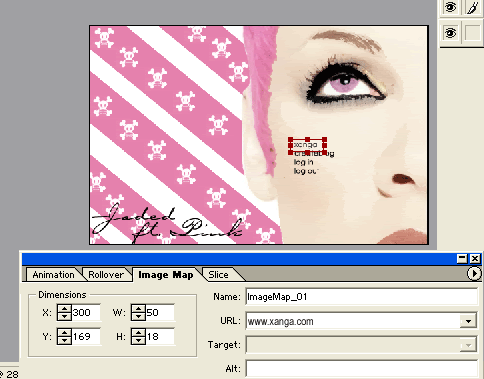 Now you use the tool and highlight over the text that you want to be mapped. After you do that, go to the Image Map section and type in the website slot including http://
Keep doing that until you've done that for all your links.
Then you go to Edit, Copy HTML Code, and For all slices.
You put that in your custom header. But make sure to change the image.jgp or whatever you saved it under to the URL of the hosted image. (ex. from pink.gif to a URL like this:)
http://img.photobucket.com/albums/v358/yemioh/pink.
if you need further help, feel free to email me. yemmerz@gmail.com
Tutorial Comments
Showing latest 8 of 8 comments
how do you image map in adobe fireworks cs3?
i have done this with photoshocs3 it's does take a little longer put with imageready you can do more. you can also do this with paintshop prox. i like this tutorial it's easy
very instructive.
Is there anyway of downloading imageready??
is there any way of doin this without image ready? AS i havent got tht i have cs3?? x
Thank you SOOO MUCH!
No one would teach me!
aaahhhh u my absolute hero haha
gah. thank you sooo much!