Improving Make-Up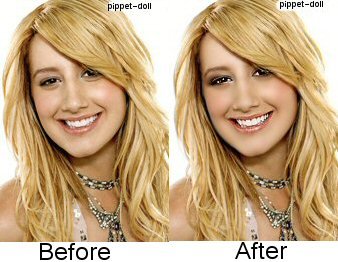 Tutorial
Click on thumbnailed images to enlarge
To improve make-up is really smart to know, it gives the skin more glow and the person looks so much better! I always improve the make-up before I make a layout.
Here's a before and after photo:


Step 1: Zoom in on the photo by using the Zoom tool, then select the Blur tool,
Start going all over the skin with the tool. Be carefull around the nose though.

Step 2: Now select the Sharpen tool, use it on the eyes and lips. But be carefull, don't exaggerate.

Step 3: Then in the end, use the Burn tool on the places you want to put a little more shadow on. Like the hair, cheekbones and eyeshadow.
Tutorial Comments
Showing latest 5 of 5 comments
what do you mean?
how do you upload a picture & actualllly edit it ?
Thanks!
(:
thanks
nice. ;p
Tutorial Tags