Tutorial
Click on thumbnailed images to enlarge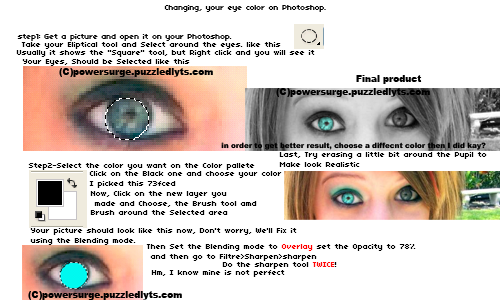 **use the polygonal tool if you feel uncomfortable with the elliptical tool.
Tutorial Comments
Showing latest 9 of 9 comments
never mind lol tht was a stoopid question :D
i cant find the filtre.? on step 2 :O help.?
sorry, but I lol'd at -Jai-JAI-'s comment(:
this is cool though, but it won't work on
bad quality pictures, i would know:D cause
if you sharpened it just a little, or two times
it could turn out all weird:) you made her eyes
really pretty though! :D
LOVE IT!
it helps me a lot!
THANKS! :)
We use expensive programs. :D
WE DONT USE WEBSITES!!!! :X we use programs
what photoshop website do you use?
photoshop.com??? idk
NICE THANKS~~~
I think this is pretty simple, but effective. Nice submission.
Tutorial Details
| | |
| --- | --- |
| Author | xii3 |
| Submitted on | Jul 23, 2009 |
| Page views | 7,237 |
| Favorites | 27 |
| Comments | 9 |
| Reviewer | manny-the-dino |
| Approved on | Jul 25, 2009 |