cartoon photoshop tutorial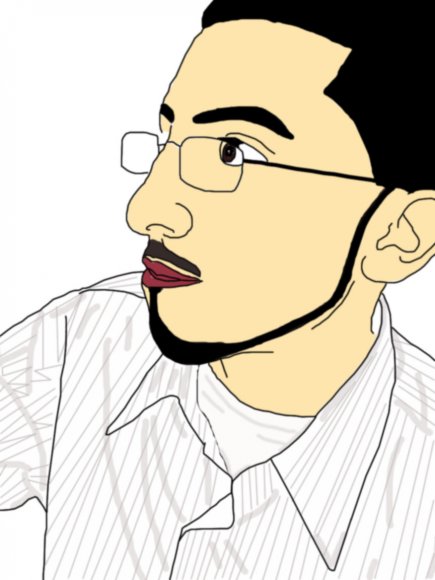 Tutorial
Click on thumbnailed images to enlarge
----open up photoshop and open ur imgae.....
---then make a new layer by going "Layer" then "New Layer" Title this layer "outline"
----Use the brush tool to do your outline. Do it all within the "Outline" layer. Use the appropriate sized brush for each particular area. Use a bigger size brush for your outline and a small brush for detailed areas on the face.
----Make another new layer, and put it underneath the "outline" layer. Title this layer "Coloring". This new layer will be for all the colors of the skin, hair, and clothes. Start by doing the skin all one solid color. same with the hair, and the clothes.
----Make another new layer, place this one between the "Outline" and the "Coloring" layer. Title it "Shadows." Use the tool brush, a bigger sized brush, also set the brush hardness to 0. This will give your shadows a very soft look. To make the proper shadow color, take the same color you used for whatever you going to shadow, but find a new colour that is just darker. Example, if you were making shadow for the skin, use the color palette to find a darker version of the skin colour.
---Really all thats involved otherwise than what I just showed you is some artistic ideas. Do whatever you think looks best. Just fool around with it, and have fun. You're awesome. You can do it
Tutorial Comments
Showing latest 10 of 13 comments
ahhh this is hard im having trouble outlining everything
thts LAME! y wood yew color in EVERY thing when yew can

-filter
-filter gallery
-artistic
-cartoon. WAY eazyRR! promise
I did it! Haha, I'm proud 'cause I have no patience for anything that takes longer than 5 seconds. I love it, thanks for the tutorial!
OMG.
Love it :]
This is a cool trutorial(:
I'm with mal4prez, I don't have a steady enough hand, so I'd have to use the pen tool:)

Pretty cool. . .I use PSP, though. But mine turned out fine. :o)
i've been looking fer this kind of tut!
excellent!
otherwise known as Vector
You could have used the pen tool.
this looks reaally great, but i wish there were pictures to show the steps =/
its very nice though
View all »
Tutorial Details
| | |
| --- | --- |
| Author | playercaro |
| Submitted on | Feb 9, 2009 |
| Page views | 34,705 |
| Favorites | 95 |
| Comments | 13 |
| Reviewer | manny-the-dino |
| Approved on | Feb 11, 2009 |
Tutorial Tags