Tutorial
Click on thumbnailed images to enlarge
This tutorial is VERY easy, so I am not posting up many pictures. If you are having trouble, please say so and I'll post up more pictures.
The first thing you want to do is create a new image. I usually have the size 200x200 and the background contents white. Go to your brush palette and select whichever brushes you would like to use to make your own brush. This does NOT mean take brushes you downloaded off of other websites and mess around with them. Simply stick to the brushes given to you by photoshop. You can find these like this: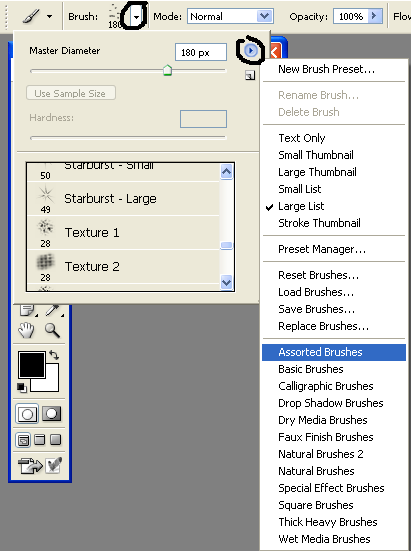 Now before you start using your brushes, you should set the foreground color as black and the background color as white. After doing this, you are free to select the brushes that you would like to be in your custom brush. You want to pick brushes that look nice together.
After you get the image looking the way you want your brush to look, go to Edit>Define Brush Preset and name the brush whatever you would like. You have now named your brush.
To get custom settings for your brush, click the "toggle the brushes palette" button, that you can find here:

Now this next part is up to you and the way that you want your brush to look. The best way to find what you're looking for is to mess around with the settings and see what fits best.
Thats pretty much about it. If you need help whatsoever feel free to PM me and I'll do my best to help you.
Tutorial Comments
Showing latest 5 of 5 comments
Thanks so much. Very helpful. 8]
awesome tutorial. great help.
kewl!=]
but i've alwayz wanted to noe how to turn my own image into a brush
can i do dat?
thank you SOOO much!!
i've always wanted to do that!!!
how do you save the brush as a abr. ?
Tutorial Details
| | |
| --- | --- |
| Author | carolannexbh |
| Submitted on | Mar 28, 2008 |
| Page views | 10,437 |
| Favorites | 47 |
| Comments | 5 |
| Reviewer | MissHygienic |
| Approved on | Mar 29, 2008 |