Tutorial
Click on thumbnailed images to enlarge
We're going to make this:

1. find an image you like.
2. if necessary, re-size by pasting into photoshop and clicking image >> image size and selecting a suitable size which will fit into a 100x100 canvas.
3. create a new canvas of 100x100 pixels and paste in your image.
i ended up with this after moving it about a bit:

4. next we're going to set the image swatches so that they look like this:

click on the first tile, and change the colour to
2b4542
then click the second tile and change the colour to
c59a9a
.
5. now go to filter >> artistic >> neon glow and ensure the glow colour is
2b4542
.
you can play about with the glow size if you like but i left it as it is.
6. duplicate your image layer, and set it to
colour dodge
. your image should now be brighter.
7. merge all layers by clicking layer >> merge visible.
8. duplicate your image layer once again, and now set this to
multiply
.
your image will look a lot darker and the pink will show through too strongly, but don't worry about this at the moment.
9. merge all layers once again. now go to image >> adjustements >> curves and change your settings to mine: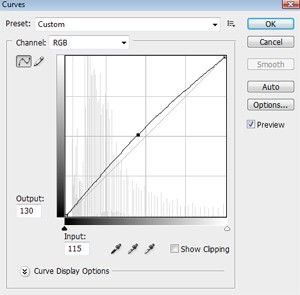 if these settings don't look right for your picture its normally down to different lighting, so just play about with the settings until you find something which suits you.
11. switch your colour swatches so that
c59a9a
is now the top tier colour.
10. go to brushes and select
brush 45 on the basic brushes settings
and create a few dots around your image.
if you're not creating an avatar and just using this effect on a larger image, choose a larger sized brush but make sure it has soft edges.
here are my dots:

11. now set this layer to
vivid light
on an opacity of
59%
.

12. merge all layers.
13. (optional) once again, go to image >> adjustments >> curves, and bright your image by dragging the line upwards until you have a nice effect.
and thats it, you're done.
Tutorial Comments
Showing latest 5 of 5 comments
i think you're missing a step?
this is so confusin can someone please explain this to me?

i take my picture and drag it to a new blank document.. then i change the colors then what??
This is awesome, thank you.
love it =]
I absoloutley love this. Theres been other colorings, but they all seem the same. Originality :)
Tutorial Details
| | |
| --- | --- |
| Author | vintage-toile |
| Submitted on | Mar 23, 2008 |
| Page views | 20,822 |
| Favorites | 75 |
| Comments | 5 |
| Reviewer | MissHygienic |
| Approved on | Mar 23, 2008 |
Tutorial Tags