Hide ABOUT ME & MEET words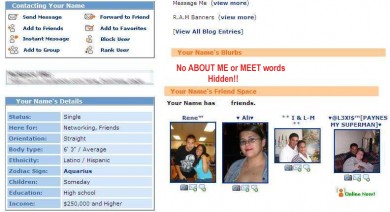 Author's Comments
Look carefully for specific instructions
Script Code
Copy and paste to About Me
Script Comments
Showing latest 10 of 15 comments
i luv it :)

mmmuuaaahhh ♥

thanx a lot
i luv it :)

mmmuuaaahhh ♥

thanx a lot
doesnt work...only hides about me text
awesome [:
thank u!!!!
your the best
thanks it works
:D
this works for both firefox and IE!
this rocks!
I LOVE this code, anyways I wanted to only hide the " ABOUT ME " TEXT but anyways still rocks!

ps. this is to " SasukeFlavoredRamen " your default pic you have of sasuke is MAD GAY! (LOL)
Very nice. Thanks.
View all »
Script Details
Script Tags