Image Behind Name Text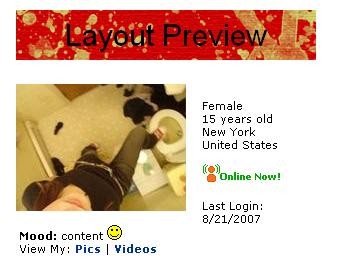 Author's Comments
Look carefully for specific instructions
Please Note: This script is not reccomended for those of you who are not familiar with CSS. If you don't know what any of this stuff means, please don't attempt to use this code just yet!

Please Read These Instructions!

- Replace the background image URL with the one you'd like to display behind your name text.

- Change the position of the image, as well as the height and the width of the area to your liking.

- Edit your name text as you usually would, by changing the color, font name, size, line height, etc.

I also added the option of adding a border around the text and image.

So, that's it. Enjoy! :D
Script Code
Copy and paste to About Me
Script Comments
Showing latest 10 of 25 comments
Omg, this is like theee bomb.
OMFG THANK YOU!!!!!!! :D
if you put the text px to 0 it just shows the picture :)
love this.thax
omgomgomg thank you :D
It is so wonderful!!
wow. this is awesome!
you truly are gifted :")

Shaina
Do you have the code to put a background image on thte " private page" I've seen it on ppl's profile but they wont effin write back & tell me how!!!! if you find out pls let me know check my profile hit me up on aim if u have too (LOL)
Coooool! ty!
Genius, Pure Genius.
I've Wanted This For The Longest!
Marry Me....
XD
thank you!
this is awesome! (:
View all »
Script Tags