Image Map as a Background (Simple)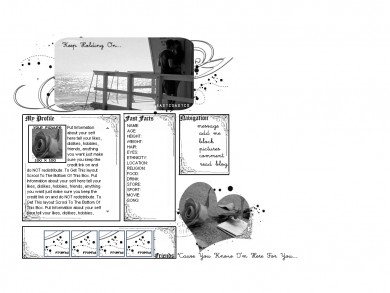 Author's Comments
Look carefully for specific instructions
This script makes it easier to code a DIV overlay using an image map.
Notice
For a tutorial on how to code a DIV Overlay
Click Here
How To Use
Position the place where you want your image map to be
Input your image map
Position the rest of your DIV Areas
Hopefully it's not too confusing if you still need help PM me
Working Preview
Keep Holding On [DIV]
Script Copyright:
IVIike
|
East Coast Co.
|
xInfiniti
Script Code
Copy and paste to I'd Like to Meet
Script Comments
Showing latest 5 of 5 comments
how do you make a link to the things like home, add, block, etc.??
How do you put a background inage?? Ive been trying byut it wont let me please help=]
Do you know if this can be used in customizing a blog?
one question thought. I want the background black for the background and it turns out white..........?
OMYGOSH thank you so much! I've been trying to find this! thanks so much, going on my favs.
Script Details
Script Tags