Align Tables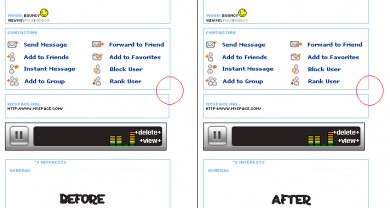 Author's Comments
Look carefully for specific instructions
PLEASE READ BEFORE DOING ANYTHING
O1. please do not jock/steal/redistribute

This code allows the tables on the left side of your profile to have the same width, not only the url table as shown in the picture but also the profile, contact, interests, and details. (It just so happened that the width that I chose was the default width size.) THE WIDTH YOU CHOOSE MUST BE AT LEAST 312PX.

~ TDL

** REMEMBER TO CHANGE THE WIDTH. **
Script Code
Copy and paste to About Me
Script Comments
Showing latest 10 of 15 comments
did you make sure the width is at least 312px?
it would be nice if it worked =/
doesnt work
this code doesnt make the box where the default picture is in the same width so i put .profileInfo and it worked
did u choose a width smaller than 302px?
It doesn't work =[
the default is actually 302px and that is also the limit for everything except the url box.
there is a limit to it. i'm guessing u're going to small with your width.
strike that, it works for my URL box, but nothing else >.
it won't work for me :(
View all »