Stop Layout Thieves!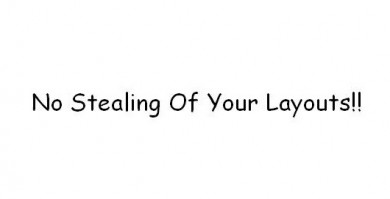 Author's Comments
Look carefully for specific instructions
**Follow Instruction**
1- Are you sick of people using those profile stealer sites to steal your layout? Include this in your about me section with your other codes, and when they get the code to put into their profile, their page will be blank.
Of course there are other ways to get around this, but this will leave people thinking for a while what to do. And if they dont know, well there's no way they will steal your stuff.
View All My Scripts
Questions or Comments
myspace.com/el_rene
Script Code
Copy and paste to About Me
Script Comments
Showing latest 10 of 27 comments
It's funny that people steal layouts. It's just funny.
nice.. Its not not worth ur time if you have to view source code to steal layouts.
yep, you can use any browser to view source, thats why i said you can get around this....

people who dont knw much, wont be able to do it...
But can't we use firefox to get the code? Just wondering, because I know tons of firefox users who keep stealing my layouts.
any body wanna see if i can steal your layout? i never stold from ppl cuz there latouts are wack, i stold from juelz and 50cent befor and ppl came up emailing saying wow dude where did chu get that layout let me get the code. its not worth stealing ppls wack layouts. :)
thank you! thank you! i hate working on my page and then having it show up somewhere else.
it's a good code. even though it doesn't disable the view source thing, it would take forever to find it. Even if you're an expert at html and css, you would have to spend time removing what wasn't on the original code. I looked at the view source of my layout and there are some extra codes added to the code i have for my layout.
yea of course, thats why i said there's a way around this, and for stupid dumb people who think they knw everything, but they dobt, they wont be able to do it
you could jus view the page source then find the about me section.
CruelDemeanor:
this only works when people take ur user id, and they go to some type of website where they put the user id and automatically get a code, thats how it works
View all »
Script Details
| | |
| --- | --- |
| Author | elrene06 |
| Submitted on | Aug 1, 2007 |
| Page views | 59,193 |
| Favorites | 216 |
| Comments | 27 |
| Reviewer | alovesopure |
| Approved on | Aug 1, 2007 |
Script Tags