Customizing The Width of Bottom Links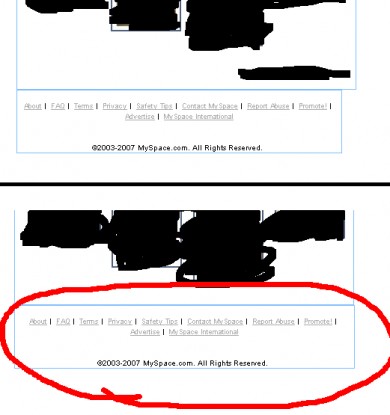 Author's Comments
Look carefully for specific instructions
PLEASE READ BEFORE DOING ANYTHING
O1. please do not jock/steal/redistribute

When you use the "hide comments only" code, your tables on the right side aren't the same width.
Especially the footer navigation.
(This can be used even if you don't use the "hide comments only" code.)
This is a code that can change the width of the footer navigation.

~ TDL

** REMEMBER TO CHANGE THE WIDTH **
Script Code
Copy and paste to About Me
Script Comments
Showing latest 5 of 5 comments
right...because if you resize the width to be smaller, then the height has to be larger for the content
or do you mean something else?
this squeezes and makes them long.
it should work...
if i don't have my friends hid how can i resize the footer? i know it can be done!
oh finally a code that does this! Thanks
Script Tags