Wrap Text Around Scrollbox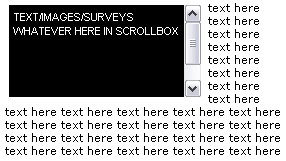 Author's Comments
Look carefully for specific instructions
IF YOU USE THIS IT MIGHT COME OUT WITH MY LINK ON TOP...DONT ACUSE ME WITH JOCKING or JACKING...

The Code:
replace where it says "TEXT/IMAGES/SURVEYS WHATEVER HERE IN SCROLLBOX" with the stuff you want in the scrollbox. replace where it says "write your text here" with what you want outside the scrollbox.
Script Code
Copy and paste to About Me
Script Comments
Showing latest 8 of 8 comments
Thanks, this is awesome.
I have tried every scroll box I could possibly find on the internet, but they do not show up.
If you know a solution, please message me.
This is cool :]
very helpful!
but,
how do i do this with a picture instead of a scroll box?
love it. :)
ckool code :)
this worked really well! i was able to stick a bunch of scrollboxes in a bigger one. anddd put my message around it. =]
woah. i found a way to make it look like it was made to wrap around a marquee. well, just adjust the height and width to fit the picture within the scrollbox. adjust it soo that you aren't able to see the scrollbars on the side and your done. :)
very helpful!
Script Details
| | |
| --- | --- |
| Author | speakerboxx123 |
| Submitted on | Jan 9, 2007 |
| Page views | 173,812 |
| Favorites | 295 |
| Comments | 8 |