Custom Comment Box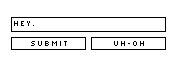 Author's Comments
Look carefully for specific instructions
Mostly all you need to do is edit the all CAPS stuff.

Chang the RAWRR to your friend ID.
Change the SUBMIT to what you want the submit button to say.
Change the RESET to what you want the reset button to say.
Change the HEY to what you want to show in the comment box because someone leaves a comment.


If you want to resize the comment box, near the start you'll find a width and height. You can change both of those to what you want the comment box to be. Near the bottom you'll find a width only twice. Those are controlling the width of the submit and reset button. So if you change the width of the comment box you may want to change those too.
Script Code
Copy and paste to About Me
Script Comments
Showing latest 10 of 54 comments
so cute
oh this rocks!! I love it! (:
this look like a great code!! :D ♥ thxxx
awesumm!!
brorowwed it..
ugh i had this comment box for a long time
and all of sudden it expanded T-T
can anyone helpp me?
is there anywhere in the code where you can change the color of the background where people type what they want their comment to say? the default color is white and it throws my profile off.
Hi, I was just wondering if you could some how edit the codes to put a background image? Its highly important, Ive been desperatly been trying to have one for my site.
THANKS SOO MUCH!
It does work. You just have to know how to adjust the rows and columns.
hm, i've used this comment box for a very long time, but now it's starting to not work (the whole size and colors thing). what's going on?
it use to be wide and smalll now the damn thing just wont chance sizes back!
View all »
Script Details
| | |
| --- | --- |
| Author | Insurmountable |
| Submitted on | Sep 20, 2006 |
| Page views | 464,226 |
| Favorites | 459 |
| Comments | 54 |
Script Tags