Additional Interests Section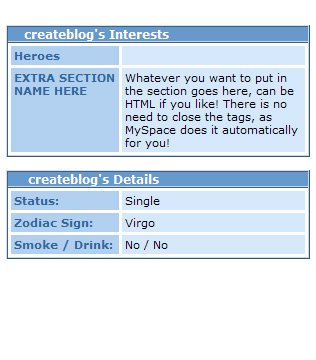 Author's Comments
Look carefully for specific instructions
This code has to go at the end of any of the following sections: Interests, Music, Films, Television, Books, Heroes (in the example given, it is used in the heroes section).
Script Code
Copy and paste to Heroes
Script Comments
Showing latest 10 of 20 comments
Or just use this:
http://www.abrax.us/Kat amari/CustomInterestsSection.p hp
:O

i did not know that you could do this!
i like it lotsss.


:]]
LUV It!!!!!!=D
Thanks=]
thanks so much,LOVE IT!

(:
Great Job! Thx
great code, thanks! :)
you are my hero! :D!
i love this!
and i have the code so my titles are skinny, so i just deleted the 'width="--px"' and it fit perfectly! thank you!
THANKS! i reallly like this!
does anyone know how to hide groups section in interests ?
please(A)
View all »
Script Details