Remove the Send Gift link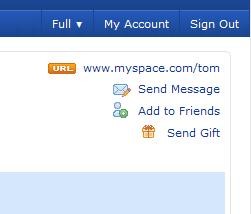 Author's Comments
Look carefully for specific instructions
The "Send Gift" link has been added to myspace as of today (11/17), and so if you are in need of removing the link, then use the first code.

If you are using Myspace 1.0, then it will not work.

The Secondary code is a code that is for the other gift link, but it will remove the whole 'View My' line of links (Photos | Blog | Videos | Gifts).
credit for secondary: ravenwolfeyes

Enjoy!
Script Code
Copy and paste to About Me
Script Comments
Showing latest 5 of 5 comments
This code ROCKED!
does anyone know a code for 1.0 that will remove this link??? PLEASE
it didn't work for me.
Thank you soooo much.(:
thank you ! :D
Script Details