Comment Box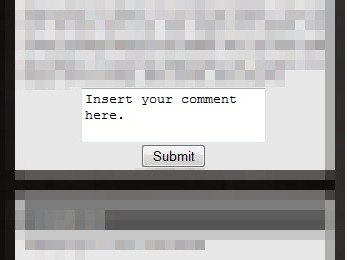 Author's Comments
Look carefully for specific instructions
You may place this code wherever you want it to appear. Just replace the eight Xs with your own friend ID. Customize its appearance to your own liking. This code is compatible on both 1.0 and 2.0 profiles. Enjoy!
Script Code
Copy and paste to About Me
Script Comments
Showing latest 4 of 4 comments
I like this page!
http://www.weddingdress onlineshop.co.uk/
Okay, thank you. I have 1.0 and I notice as soon as I save the code in the About Me section, it changes and the X's disappear. The box doesn't show up on my profile even after I hurry up and put in my user i.d. in place of the X's, then 'save'. Nothing shows up. I think the code has been disabled by Myspace?
This one ACTUALLY works for myspace 2.0 so thanks!! Ya, it takes a few steps to get the comment submitted but it works..lol.
how come comment boxes dont work like they used to? once u type in this one and click submit a pop up says its taking me to another website. if i click ok it sends me to a separate comment page and then i have to click submit again and then the preview pages comes up and i have to click submit again. its a lot of work for one stupid comment! isnt there a code for one where all i have to do is click submit the first time from my profile?? help!
Script Details
| | |
| --- | --- |
| Author | Mickey |
| Submitted on | Aug 25, 2009 |
| Page views | 15,508 |
| Favorites | 35 |
| Comments | 4 |
| Reviewer | rickysaurus |
| Approved on | Aug 25, 2009 |