Myspace 2.0 Text Align Justify Paragraphs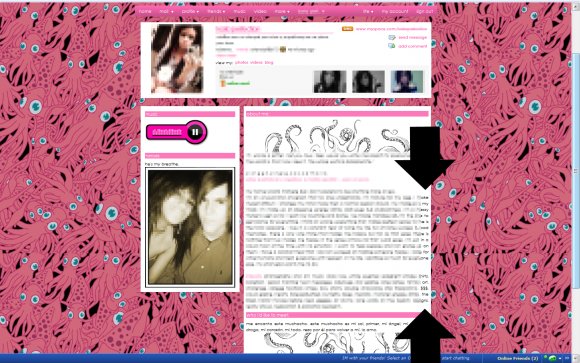 Author's Comments
Look carefully for specific instructions
Better thank me(: took me forever to find and figure out this code. Remember, it only works for 2.0 Myspace. This DOES NOT go to the "customize profile", just go to Edit Profile and put it anywhere you have long test paragraphs. your about me, your interest, whatever. Makes your profile really neat, huh? :) leave comments! xo

&& if your looking for the 1.0 one,
it's right here, http://www.createblog.com/myspace-scripts/1544-neatly-evens-out-paragraphs/
someone already did this code for 1.0, so don't give me credit for the 1.0 one cause i didn't do it.

BTW;
the reason why i blur stuff in the screen shots it's because i don't want random lurkers reading my personal stuff.
Script Code
Copy and paste to About Me
Script Comments
Showing latest 10 of 14 comments
No problem! :]
Thanks :D
VVVVVVVVVVVVV
kittymittens doesn't know what their talking about. This is a great code. It makes profiles look much more neat.
i'm using div class because it will allow me to use it, remember this is Myspace 2.0. It can't read stuff like < center >, yeah know?
it's hard to explain, lol
it's for people that writes a long "about me"
&&wants to make it neater.

it's not stupid.
tell me hows that stupid.
this is dumb.....u could just delete ur long ass paragraph...no offense
absolutely LOVE your background. thx for the code! :]
why r u using a (div) class?
cool.:)
using. favorite. and i love it.
View all »
Script Details
| | |
| --- | --- |
| Author | KarlaPerfection |
| Submitted on | Jun 12, 2009 |
| Page views | 25,822 |
| Favorites | 80 |
| Comments | 14 |
| Reviewer | A1Bassline |
| Approved on | Jun 12, 2009 |
Script Tags