2.0 simple white!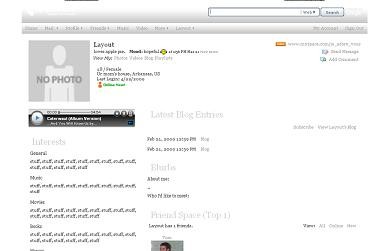 Author's Comments
Look carefully for specific instructions
paste into the CSS part of the customization thing in 2.0, NOT THE ABOUT ME.
enjoy!

XOXO The Cheat :]
Script Code
Copy and paste to About Me
Script Comments
Showing latest 6 of 6 comments
britnique:
have you set your theme to "no theme?"
i've been tryinq & trying to make the blue on my interest section to black but it wont workk i've even tried tweakin this code. pleasse help
erm forget the last comment.
here's how it looks.
http://www.myspace.com /469770489
hrmm.
well it sorta works.
I pretty much get a blank page.
but it's good.
is it possible to make DIV overlays for 2.0?
not everything is white when I use this.
such as the background for details, status and mood, activity stream, blurbs, comments, friend space.
how can I fix this?
thanx
this is a good base for making your own 2.0
Script Details
Script Tags