Remove the Info Module Links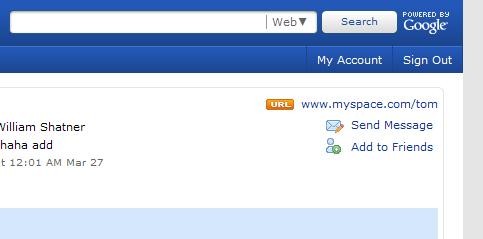 Author's Comments
Look carefully for specific instructions
This is for 2.0 ONLY!

you can use 1, 2, or just all of the code for your needs...

they are the links that are on the right that say: URL, SEND MESSAGE, ADD COMMENT


"please leave feedback on this script on how it goes"
-Jon

----------------------

the reason being that there are less comments on this script is because of the type of feedback that was left. If you see your comment gone, then that means i have delted it.
-Jon

~Symptoms of Code Not Working~

-Ensure your browser is enabled to use HTML/CSS.
-You have a code that is interfering with the code
-You just dont know how to do it
Script Code
Copy and paste to About Me
Script Comments
Showing latest 4 of 4 comments
i just want to hide the URL link and the add comment link. how do i do that? when i try to use part of this script it doesnt hide anything? help :|
I know!
Wow, people are such assholes!

....If you really wanna find a code,
just friggen google for God sake!

Don't bitch at someone who puts up a code to attepmt to help people;
that's what this website is for; JEEZ.
This doesn't work for me?
Preez help. :[
uhm...stop freaking out...its just a code.
thanks for this. i needed it.
Script Details