Customize scrollbar in 2.0!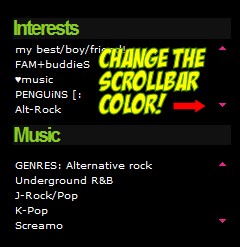 Author's Comments
Look carefully for specific instructions
Put the code into your CSS, not about me!

Change COLORHERE to whatever color you want.

I did NOT make this code & I don't take credit for it (google search ftw :P). Just sharing what I found (:
Script Code
Copy and paste to About Me
Script Comments
Showing latest 10 of 12 comments
Oh my gosh thank you so much for posting this code up. I was going nuts wondering if the scrollbar can even change at all in a 2.0 I'm so glad you found this :3
why cant you create this for profile 1.0 too ?
sorry to ask but what font did you use for your screenshot pic?
the "change the scrollbar color" one
ok i dont know how to work this

um does this change the scroll bar on the whole profile. i got a acroll box with text in my interest and it didnt change nor did the scroll bar for the profile.
Nice, thanks!
Brilliant Works! HAHA! i got it :]
OOOH nice, this probably didnt take you a long time to do this..
@ adiman:
Yes.
only for internet explorer?
View all »
Script Tags