simple text code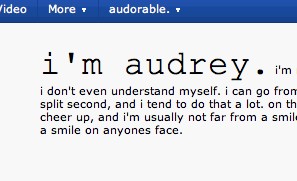 Author's Comments
Look carefully for specific instructions
Copy and paste code wherever you want to use it. Change the font name, size, color, etc. to whatever you want.
Script Code
Copy and paste to About Me
Script Comments
Showing latest 10 of 11 comments
thanks so much
OH LOL. Didn't know the font was on the code. ahahha !
this code makes me v.v.v.v. happy!!! (:
@Kuntagious
LOL, are you serious?
You don't know how grateful I am to you right now. For DAYS, certain parts of my text coding would not work, and now I have no issues whatsoever!! THANK YOOOOUUU!! *kisses your feet*
this is for 2.0??
http://profile.myspace.com/ind ex.cfm?fuseaction=user.viewPro file&friendID=371736539
I LOVE THIS CODE!!!!!!!!!!!!!!!!!!!!!!!!!! !!!!!!!!!!!!!!!!!!
http://pro file.myspace.com/index.cfm?fus eaction=user.viewProfile&frien dID=371736539

Check it outt!
Can you please tell me the font you've used for the preview please?
Thank you :)
GREAT!!
just wat i
was looking for
View all »