Text Codes for Profile 2.0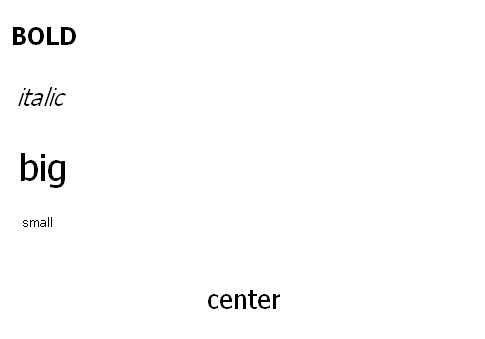 Author's Comments
Look carefully for specific instructions
There's: big text, bold text, centred text, small text.


Big text ranges from 1-6, the lower the number, the bigger the text. The text actually gets quite small, like the < sub > text when you get to < h6 >
eg.
< h1 >BIGGEST < / h1 >
< h2 >bigger < / h2 >
< h3 >big < / h3 >
< h4 >less big < / h4 >
< h5 >small < / h5 >
< h6 >smallest < / h6 >

Script Code
Copy and paste to About Me
Script Comments
Showing latest 10 of 15 comments
3LmD1r lgfmcufkjuab, [url=http://lmguffqyaiqa.com/] lmguffqyaiqa[/url], [link=http://lvoblmcpehqd.com/ ]lvoblmcpehqd[/link], http://ixtcyncgpayv.com/
whats teh code for underline word for 2.0?
is there a code for the marquee too cuz mine doesnt work anymore..
strike throught????
how do you change the colors of the bold, italics, etc.?
does the center also work for images? I'm guessing it does cause its div lol
yeah what about strikes through words or underline and etc.
it fucking says for 2.0 on you dumbfuckss
what about strike through words?
i think this is 2.0.
View all »