Push down bottom links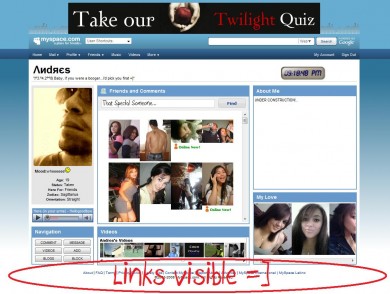 Author's Comments
Look carefully for specific instructions
this code pushes down the bottom links so they can show if you have a Div layout. That way you wont have to worry if you'll get deleted or not =]
just change the 100 to a higher number to push them lower on your page until you can see them below your layout.
The layout shown in the preview is a variation that i made from miguelS original
Homepage themed layout
.
Script Code
Copy and paste to About Me
Script Comments
Showing latest 10 of 21 comments
Fuck!
Are ALL of you people illiterate???

@ RayNada: Read the previous comments I've made to people who ask the same question as yours.

can i have your layout....
i.ve been tryna gt mine.s like
dat but it won.t go threw
can i have yours.... ????
@ marie267: Please read my comment on this page, its the one below yours.
i love you layout.. can you send it to me please
marie_267@yahoo.com
t hankz.
@ Aries-Swagga: Ask the owner of the layout. The link is provided on this page. If he decides not to give it out then i'm sorry. I'm not giving the layout on the preview anymore. i screwed up enough by giving it out without his consent.
can you send me the layouthttp://www.myspace.com/t ha_afrolatina

can u send me the layout please!?
my myspace is myspace.com/doleac
thank you :)
can you send me the layout, myspace.com/kboi253
You should like put a comment box thingy containing the layout code on your CB profile so that everybody can have this layout instead of going threw the process of getting like 35978738070 messages a day and giving everybody the code. Just a thought, just putting it out there....
i need this layout
View all »
Script Details