Hide Quotation Marks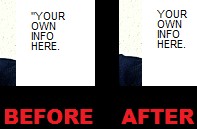 Author's Comments
Look carefully for specific instructions
Just replace "YOUR OWN INFO HERE" with your own information. Also, if your Profile Info table has a different background color, just replace ffffff with that same color. If you'd like to change the color of the headline text, replace 000000 with a different color.

NOTE: The codes that need to be put on your About Me should be put on your Headline section.
Script Code
Copy and paste to About Me
Script Code
Copy and paste to I'd Like to Meet
Script Comments
Showing latest 10 of 10 comments
or, just put:

HEADLINE HERE
used iiT.
lovee !
works perfectly! thank you :)
awesomeee (=
thnx
love it
love love LOVE it :)
thanksssss !
thanks. this helped. ;)
Sweet. :]
nevermind "D it works!
this is like God, thankyou
doesnt work :(
Script Details