Custom Interests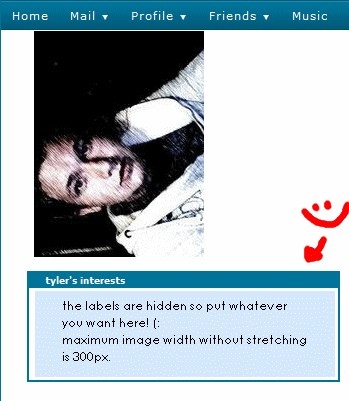 Author's Comments
Look carefully for specific instructions
you can change '00749A' to any color you want. (:
it just happens to be my fav color.
Script Code
Copy and paste to About Me
Script Comments
Showing latest 10 of 10 comments
how do I ad writing in the box?
Love It So Using[;
y isn't it working for me?
does it work in ff?
in agreement with the comment below

SSSWWWWEEETTT
NICEEEEEEEEEEEE
I like it alot.
Pretty nifty.
lovelyfully wonderrrfulllll
Is it possible to do the same thing with my details, schools, and contact box?
baaah, i love that color
I wanted this code before, but I don't even have a interests table anymore, so it's not needed anymore.
but once I get interest's again, i'll def be using this.
Script Details
Script Tags