Easier Fieldset Scrollbox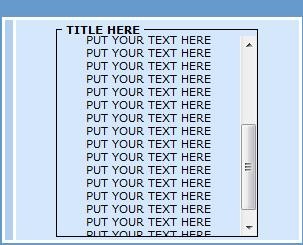 Author's Comments
Look carefully for specific instructions
So what I did here was I took the basic scrollbox code and put it inside of a fieldset in order to make a more simplified, easier to work with fieldset scrollbox.

In order to get the scrollbox to set perfectly inside the fieldset, all you have to do is make the widths match. The height of the scrollbox will change the height of the fieldset too. I eliminated the border so it would look cleaner but if you want a thicker border or want to add color just add:

border: 1px solid color: COLORHERE;



DOES NOT WORK FOR 2.0
Script Code
Copy and paste to About Me
Script Comments
Showing latest 10 of 14 comments
thanks for this code. i love it! the only problem is, i can't see my scroll bar. here is my myspace, maybe you can help. if not, thank you anyway!
http://www.myspace.co m/lesleydanielledecaytm
the header doesn't work,other than that,works perfectly
usinq & lovinq !*
for some reason when i put it on,
i view my profile and it doesnt show whats inside the fieldset D:
can it work for 2.0???
Yay! Now my profile is all neat-like. Thanks!
Thanks, this is exactly what I wanted :)
usin' (:


it's so cool(H)

This will be very useful in the near future. Simplicity at its' best.

Thanks.
View all »
Script Tags