hiding ONLY Who Id like to meet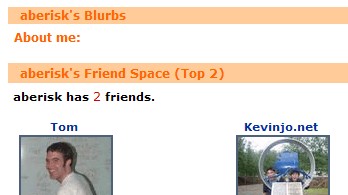 Author's Comments
Look carefully for specific instructions
put this at the bottom of your about me :]

Script Code
Copy and paste to About Me
Script Comments
Showing latest 9 of 9 comments
Nifty! (If it works.)
I used it today. It works. I already hide my comments and things below who i'd like to meet though. I was just looking for a code for this specific section. Thanks! Even removed the space from the section title!
to Anthonyash
who cares what others say.
dont look at the comments
simple
Theres always a person to say something negative about every code that is posted. SORRY WE ARE ALL NOT GEEKS WHO SIT at the computer all day and learn HTML. Shut up if you already know the code, if you've already saw it, no one cares.
this code might not work anymore
i used to have it and it stuffed my profile up.
cooool. [:
This is actually pretty rad. ^_^
old way of dropping it
wouldnt this also hide friends and comments? just wonderng
Script Details