Embed Music Player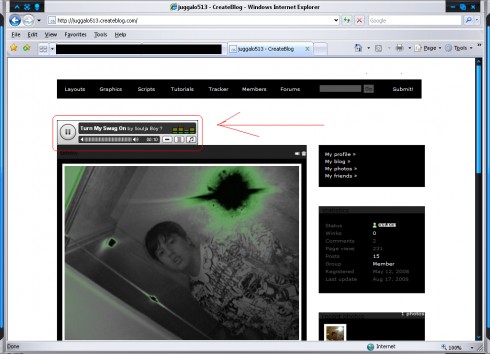 Author's Comments
Look carefully for specific instructions
u can put this code on any website.
CLICK HERE FOR THE TUTORIAL
Script Code
Copy and paste to About Me
Script Comments
Showing latest 10 of 19 comments
nevermind... it only seems to work in IE and not FF. (duh!)
worked for one day and all of a sudden it stopped working.
*using*
this is pretty snazzy (:
does this apply to any site? itz coz when i posted it on other site after lyk 24 hrs its not working nemore. juzt white page. sum1 rply plz :]
Sorry to burst your bubbles guys but you all didn't invent HTML, therefore you don't own the code. You didn't invent myspace coding. So anyone can have it on their site. Now shut up and go outside.
wow chuxxo yer such n e-thug.
boys are wierd.
not argueing over the keyboard
or trying to show how better you are

anyways good job on the code
=]

peace from the middle east of texas
=]
:O i love it!

but that's what MYFLASHFETISH.COM is for!
and plus the music players on it look cooler then the myspace one!
but over all, i love this code.
DAMN! you must be a WIZ @ this then...
View all »
Script Details
| | |
| --- | --- |
| Author | juggalo513 |
| Submitted on | Aug 18, 2008 |
| Page views | 22,690 |
| Favorites | 37 |
| Comments | 19 |
| Reviewer | manny-the-dino |
| Approved on | Aug 18, 2008 |
Script Tags