Textarea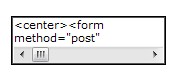 Author's Comments
Look carefully for specific instructions
Just copy the code below wherever you want the textarea box. you can put codes and HTML where it says "CODES AND HTML HERE". good for layout sites to show support codes, layout codes, etc
Script Code
Copy and paste to About Me
Script Comments
Showing latest 10 of 14 comments
that would be really cool if i ever made an HTML support myspace; thx :)
thanks a bunch :] it really helped me w/ my support code!
my codes better you can resize
(looks below)
aw! lol its k :)

hmmm....idk why it'd do that tho =/
Ok i used this for a layout and it like just put it all together and gave me a whole buncha line breaks T-T i wanted to cry
lolsx. yhur a big help =]
lol Your welcome :)
I always for get this code for some reason =/. Thanks!
mhm :) and it works good! suck part about it, it doesn't let you change the width and height =/.. I'm sure theirs a way though lol I just don't know it O_O
this used to never WORK!
View all »
Script Details