Wrap Text Around Scrollbox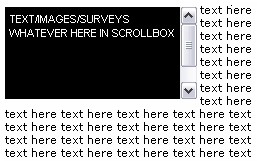 Author's Comments
Look carefully for specific instructions
eplace where it says "TEXT/IMAGES/SURVEYS WHATEVER HERE IN SCROLLBOX" with whatever you want in the scrollbox. replace where it says "write your text here" with what you want outside the scrollbox.
Script Code
Copy and paste to About Me
Script Comments
Showing latest 8 of 8 comments
This is great thanks, using for certain! But, is there a code for just a scrollbox able to have a background inside it? That is what I'm really looking for. ;)
is there any way to wrap the text around just a picture??:)
awesome :D
Thank you! This helped solve my problem!
how do you wrap text around an image?
please help!
that's so cool. :]
i haven't seen a code like this before.
amazing :D thanks
okay this is awesome =]
Script Details