Fieldset Comment Box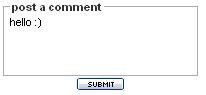 Author's Comments
Look carefully for specific instructions
Place anywhere you'd like. =]
****REMEMBER: replace BOTH XXXX's with your friend ID****



any problems/questions? let me know!
Script Code
Copy and paste to About Me
Script Comments
Showing latest 10 of 42 comments
It's not workin' for me either. I'm on Myspace 1.0. I have a DIV and the CB doesn't show up no matter what:(
yeah same here everytime i click submit it go to my home page on myspace.
sweet :)
I love it. I'm using it. Thanks. (:
thanks!!works perfectly..
this code does not work on my page why is that?
from what Ive seen this box's code has been blocked by myspace.
everytime i click submit, it goes home!!!!!!!! UGHHH. help? :)
hey when i press submit it goes straight home?!!
works for me.
loveee it!
View all »
Script Details
Script Tags