Scrolling Left Column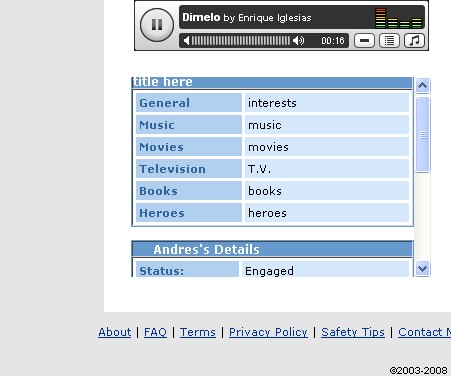 Author's Comments
Look carefully for specific instructions
original post: http://www.abrax.us/bbz/ScrollingInterests.php

do NOT put in "about me"!

MAKE SURE TO PUT THIS CODE AT THE
VERY TOP OF YOUR INTERESTS SECTION =]

Change in the code where it says "title here" to whatever you like.

umm, i think that's it. enjoy!

Important: I will no longer submit codes to Createblog (this site gets on my nerves sometimes lol), instead I will put them as blogs on Myspace.
I already have a 'rounded corners in 2.0 tutorial'.
Script Code
Copy and paste to About Me
Script Comments
Showing latest 10 of 21 comments
sweet!
i had been looking for a way to do this
lmao

thanx kidd:]
i used this, and the scrolling part workes, but it moved the interest section is way up in the top left corner.. help! :)
This is sickly awesome.
heehe "dimelo" used to be my mom's favorite song.
is there a way to do this and not include the details and networks?
Is there a way to make it that the "Title here" part goes above the scrolling part?
I love this code so much!
YES!

thankyousooofuckingmuc h.
Ooh cool. :]
thanksthanksthanks
View all »
Script Details