Hide Last Login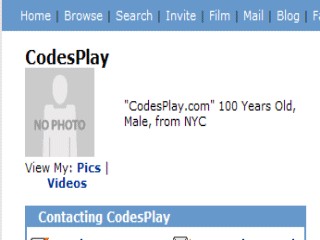 Author's Comments
Look carefully for specific instructions
1. Put this code in your HEADLINE section.
2.ENJOY ;]

-Note: Sorry, this wil also hide your: a/s/l and "online" sign.
& it will also center your headline.

*P.S. LEAVE ME A COMMENT & TELL ME IF IT WORKS.

*P.P.S. I just put up the original code I had before. This is the one I use on my MySpace. Try each of them out.
Script Code
Copy and paste to About Me
Script Code
Copy and paste to I'd Like to Meet
Script Comments
Showing latest 10 of 17 comments
it works.
you just have to adjust it a bit.
all i did was remove the first quotation mark in the second code and put it in my headline section. the first code not really needed.
i use the first code; still.

for awhile it didn't work
because of myspace's changes.

&& you may not think it works cuz
if you friend request someone that's private
you'll see your headline, the code to hide it, and still all the other crap.

but once you're on the person's profile it works.

that's how it is on my pro.
the second one works but you have to take the quotation marks in the front off so it looks ike this;;

people people, just put the code that its in whod id like to meet in ur headline
and write ur headline before the code
don't work for me


can you up date this. myspace did something with private profiles and it now shows up. thaxxx
place the Script Code; the one that you post on your "who i'd like to meet"; after your headline and it should work :]
Put the bottom code in the headline and theres already a code 4 dis...
no it doesn't work
View all »