Top Friends Image Only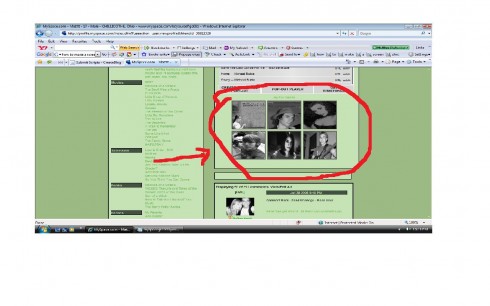 Author's Comments
Look carefully for specific instructions
replace "NAME" with your friends name.
replace "IMAGE URL" with the image of your friend that you want to use.
replace "FRIEND URL" with your friends myspace page url
you can change the height and width of the images to w/e you want.
Script Code
Copy and paste to About Me
Script Comments
Showing latest 8 of 8 comments
WELL THIS DOSNT WORK ON MY PAGE I WAS SO HAPPY TO FIND IT BUT NOW IM SAD CUZ IT DONT WORK

this is awsome im so using this
this is badass, to bad you need to do soo mutch work

can you make them any closer together?
I can't do it.
Im sure you can make it transparent. Ive never tried it like that before. But its worth a shot.
im so too lazy to do all this
thank you though
I found this to be useful, very useful. But can I make the table background tranparent? Or do the images take up all the room in the cells? Thanx, Daniel