Remove Scroll Bar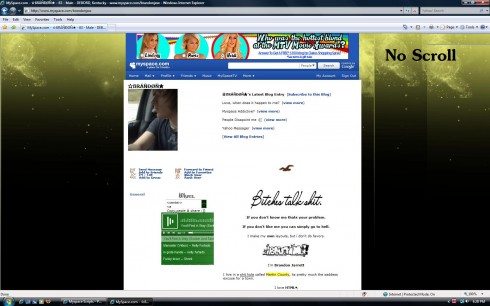 Author's Comments
Look carefully for specific instructions
Simply Copy and paste this code in your about me.
Tested on Internet Explorer & FireFox.

Hides the scroll bar completely for those small layouts.

Also works on DIV.
Script Code
Copy and paste to About Me
Script Comments
Showing latest 10 of 15 comments
it so messes up ur page fail
WOW... I don't really need the code... but this is awesome :)
thanks :]
it actually works!
ack!
you motherfugginrock!

is there a way to hide the scroll bar but it still scrolls? Where like the scroll bar is just invisable?
I LOVE THIS CODE! XD
I used it.
i hate the scroll bar
its ugly

thanks
The two people under me are pretty stupid. haha.


doesn't scroll danm
it didnt work:(
View all »