Remove scroll bar! *NEW*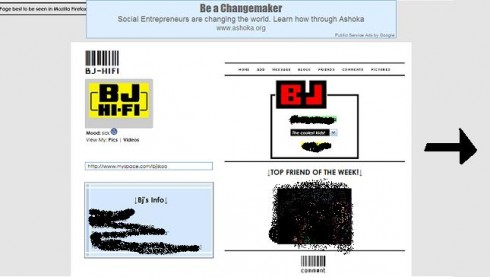 Author's Comments
Look carefully for specific instructions
Remove the scroll bar!

This actually works, it doesn't make the scroll bar invisible!

This works good on DIV layouts!

And replace the "y" with a "x" to remove the bottom scroll bar! [amandaMAGGOT]

-Enjoy!

If you need help, got to myspace.com/bjiskoo

*TESTED ON FIREFOX & INTERNET EXPLORER & OPERA*
Script Code
Copy and paste to About Me
Script Comments
Showing latest 10 of 22 comments
Your a life-saver. Thnx.
super duper!
yay thanks
thanks for the awesome code!
ty[:
I use Safari , and it doesn't work , but I have FireFox Also ; Haven't tried FireFox yet.
It wasn't your code that removed my background.
It was the code I was using to hide my top nav.
No clue why, but when I put this code in, it and the one to hide my nav conflicted, and my background disappeared.
Hmm.
I must have conflicting codes or something then.
I'll try to figure it out later then.
I wish it would just tell you when you have codes that are gonna mess each other up, that would be so much nicer, haha.
SkeleBoy, i have no idea why that has happened :S
This removed my scroll bar, which is great.
But it also got rid of my background image and background color, and I can't seem to get them back.
Any idea why it would do that?
View all »
Script Details
Script Tags