Hide Everything (music player options) for profile v.1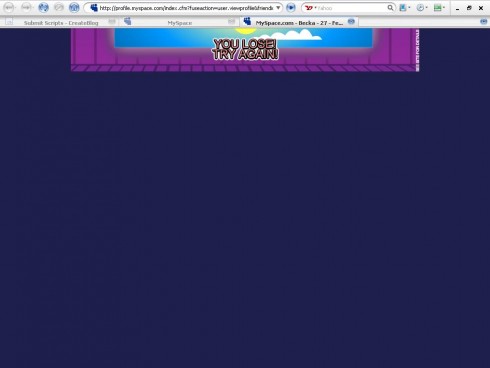 Author's Comments
Look carefully for specific instructions
Updated May 1, 2009.
Still hides everything (except the add), but you can now choose what to do with your music player. The first code hides everything, the second is the options for the music player. Works in IE and Firefox.


To customize:
Take a screen shot of your music player, and open it in an image editing program. You can then create ANY player you want, as long as the buttons stay in the same general place. You can make any part transparent or opaque, since the original player is COMPLETELY hidden. This means that there's no ugly part showing through. You'll still be able to control the player once the image is linked.
Script Code
Copy and paste to About Me
Script Code
Copy and paste to I'd Like to Meet
Script Comments
Showing latest 10 of 11 comments
Finally one that actually works! Thank you.
thank you!
Thank you. This code is effective. :]
HOW DO I DO A DIV?? I HIDE EVERYTHING ON MY PAGE BUT HOW DO I OUT A PIC BY THE SIDE THAT MY DEFAUKT PIC WAS ON? PLEASE...
Ohhh. Sorry man, but this didn't work for me. It hid nothing it was supposed to. :[
Thanks.. love it.
Added to my favs
the gradient is still there on firefox... idk about ie though.
This definatly does NOT work. It moves my div around, misaligns everything, and doesn't even hide the bar.
ooo, you're rad Thomas!
Script edited to hide new navigation, gradient bar as well as the user shortcuts that appeared when the gradient bar was hidden.

Your welcome :)
View all »
Script Details
| | |
| --- | --- |
| Author | Smarmosaur |
| Submitted on | Jun 18, 2008 |
| Page views | 33,892 |
| Favorites | 67 |
| Comments | 11 |
| Reviewer | manny-the-dino |
| Approved on | Jun 18, 2008 |