Custom Interests [Details Untouched] with custom title.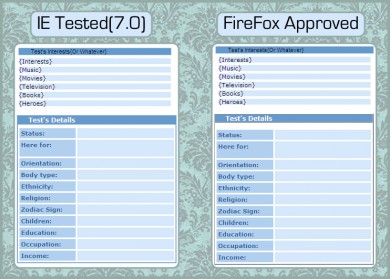 Author's Comments
Look carefully for specific instructions
[*P*L*E*A*S*E* *R*E*A*D* *C*A*R*E*F*U*L*L*Y*]
/-------------------------------------------
The code that is said to go in the 'Heroes'
section actually goes in the 'General'
(Interests) section.

Anything that says "CHANGEME" or similar you
can/should change. Especially where colors
are concerned

Border Colors should match your main table
colors.

Please be aware that this script isn't for
people just starting out using CSS/HTML via
myspace.

If you need extra help with this script only
you may email me at: o0luxie0o@gmail.com
-------------------------------------------/
Script Code
Copy and paste to About Me
Script Code
Copy and paste to Heroes
Script Comments
Showing latest 6 of 6 comments
fixed it... i got rid of the white text replacer part and im just going to make the title with html tags.
That is great! one thing. on my profile there is a huge border around the new title of the section and it covers most the profile... i will fix it!
Ooh, this is cool! =]
I always use this.
Maybe make a code for the details too?
I dunno, suggestion.
OMG!Thanks!This is one of the best codes I've ever seen!Great job :).
that`s pretty cool.
cool!