Make Your Default Picture Smaller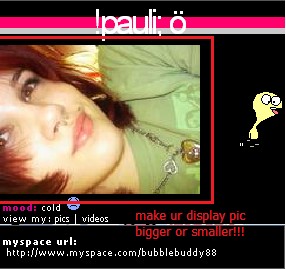 Author's Comments
Look carefully for specific instructions
Do you have a layout that makes your display pic REALLY small, and its hard to see, and you don't know how to fix it? OR is your layout making it HUGE and stretching out your tables? then this script is perfect for you ;)

To make the pic bigger; make the width bigger, to make the pic smaller; make the width smaller.
Script Code
Copy and paste to About Me
Script Comments
Showing latest 9 of 9 comments
DAYUMN DAT KOOL LOL TANX!!!
Thanks!
wow i love it
Thanks, Cute picture BTW
SAVING THIS SCRIPT JUST IN CASE!
just make a div of the picture to cover it :)
much easier..
well if you know how to use the htmls :)
yay!
is there a way to make it less pixelly?
no good.
i resized and it went all pixelly.

soz

xxx