Top Of The World;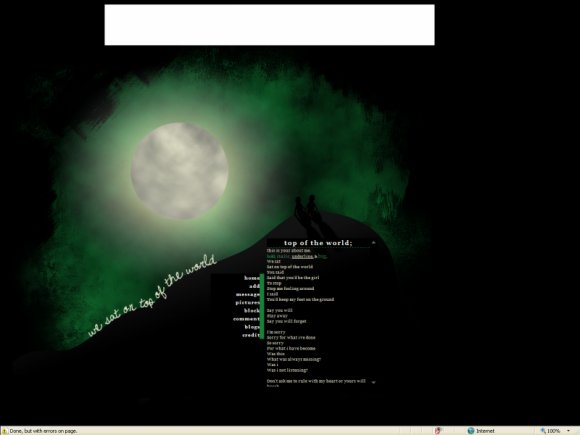 Designer's Comments
Look carefully for specific instructions
CREDIT
Brushes
|
Font; Never Let Go
Drew most of this, with a few photoshop effects and such.
And the good ol' pen tool.
Lyrics from "Top Of The World" by
The Blackout
's new album.
I'm going to dedicate this to the person I sung it to last, even though I'm pretty sure you won't like the song.
CHANGE THE COLOUR?
If you dislike the green colour, simply find the part right at the beginning of the WILTM section that says this: http://cbimg6.com/layouts/09/05/34735aa.png
And replace it with this: http://i239.photobucket.com/albums/ff288/aliiicimo/Layouts/backgroundblue.png
This will make the background blue instead of green :)
You'll have to change the coding for the colours, but only if you know what you're doing(:
If you'd like it another colour, just leave a comment.
LIKE THIS?
WEBSITE
|
MYSPACE
Using This Layout
For specific instructions read designer's comments
This is a div overlay layout, html knowledge required!
1. Log into myspace.com
2. Click on

Edit Profile (Profile 1.0)

3. Copy

(ctrl c)

and paste

(ctrl v)

code to the specified fields
Update Friend ID
Input Friend ID to automagically update code
Layout Code
Copy and paste to About Me
Layout Code
Copy and paste to I'd Like to Meet
Layout Comments
Showing latest 10 of 19 comments
really sweet layout.
im trying to download this song frostwire sucks
what's the artist name!?
So, Okay. Profile 2.0 will not allow m to put CSS in the about me box, so the layout shows up (literally) in a minature scale in my about me, and who I want to meet boxes.

And... I don't have IE8 or whatever, so I can't get into 2.0 to try to figure it out? Frustration!

Help please!?

Oh, and I've done HTML and CSS coding before, but I am stumped on how to fix this when this stupid 2.0 business is around and I can't access it. Usually I just pop the coding in the correct places and go from there with whatever coding I choose! Dx
luige: you just take out the code between the lines that says MUSIC PLAYER.
or just get rid of the song?
How do I change the song?
redcat: it depends on what browser you use for the scrollbar.
and the box exists in the coding, but removing this < /div > at the end would mean the box didn't exist, so make sure you copy the code & edit it carefully.
Yah so I replaced the scroll box with diff scroll box code, and it no longer stretches out the page(it did before, just forgot to mention). Though, that is fixed, the scroll box still doesnt appear like it does on your preview. Im lost lol. help!
Hey Schizo. So... the about me section is blank on mine. The box doesn't even exist actually, and all I did was copy and paste, put my friend ID and change about me sec. Help please?! XD thanks.
this is such a cool layout :)
blackout
View all »
Layout Details
Layout Tools
Layout Affiliates