Tea. (1st 2.0 Layout on CB!)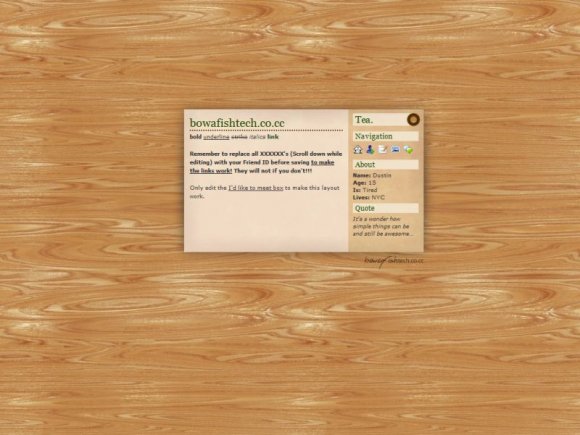 Designer's Comments
Look carefully for specific instructions
Please remember this is for Profile 2 only.
Createblog's Preview is outdated. It will look right on Myspace.
How to Install
- Make sure you switched to the new profile.
- Put the About Me and I'd Like to Meet boxes as usual.
- Replace all XXXXXX's with your Friend ID before saving to make the links work. They will not if you don't.
- Click on
Customize Profile
on the right, then look for
CSS
and click on it. Paste the code in the CSS box into the box called
CSS.
- Click on Preview, then click on Publish.
Works in IE, Firefox, Safari, and Chrome.
bowafishtech.org
Using This Layout
For specific instructions read designer's comments
1. Log into myspace.com
2. Click on

Edit Profile (Profile 2.0)

3. Copy

(ctrl c)

and paste

(ctrl v)

code to the specified fields
Layout Code
Copy and paste to CSS (Profile 2.0)
Layout Code
Copy and paste to About Me (Edit Profile)
Layout Code
Copy and paste to I'd Like to Meet (Edit Profile)
Layout Comments
Showing latest 10 of 35 comments
There are other layouts in this same style that look a little bit better than this but this is still cute, and I do like it.
using, but my music player isn't working =(
can you help me out here please? thanks .
great job! haven't seen anyone do this with 2.0. you have a tut for this?
beautiful thank you!!!
lamo i forgot about the link! sorry
http://profile.myspace. com/index.cfm?fuseaction=user. viewProfile&friendID=418951444
mmm... Hi! i love this layout! Check out mine! still working on mine! thx for code!
@ dorrionfinley1994, There's no way to hide the nav as of right now.
@ tarababes, This is for profile 2, not 1.0.
write < style > at the begining of tht code a
and at the end

for some reason it didnt show on my last comment.
Hey people if u are having the same trouble like i did wit the Nvigation bar being visible, then jus copy and paste this code below at the bottom of ur about me section. It should hide it all. I hope this helps!



div div table div {display:none;} .clearfix table div div {display:block;}
tr td div, div td ,div tr, div table {background-color:transparent !important;}
.profile, div ul {display:none !important;}
Oh and one more thing i can't hide the Myspace Navigation...sorry for troubling you but minus well say something about it know so you don't get thousands of comments saying you can't hide it later. Either way,like my last comment very nice
View all »
Layout Tags
Layout Tools
Layout Affiliates