compulsion v2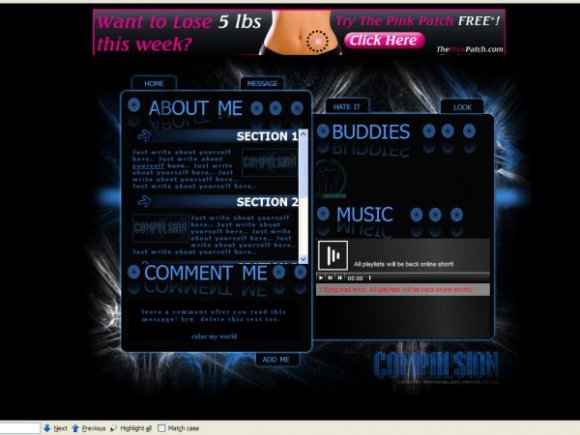 Designer's Comments
Look carefully for specific instructions
please add me!! http://myspace.com/youreuniquedesign
please add me!! http://myspace.com/youreuniquedesign
please add me!! http://myspace.com/youreuniquedesign
please add me!! http://myspace.com/youreuniquedesign
FAQS!
"WHERE DO I PUT MY FRIEND ID?"
-DO NOT I REPEAT DO NOT SAVE YOUR PROFILE AFTER YOU JUST PUT YOUR FRIENDID--IT WILL MESS UP THE LINKS; JUST TAKE YOUR TIME AND EDIT IT ALL AT ONCE.
-Put your friend id in the layout where it says "YOURFRIENDIDHERE"
-to do that..Ctrl+F (Apple F for Macs) and type in the find box YOURFRIENDIDHERE and replace (paste) it there
-To get your friend id..go here...
click here to get your friend id !
"HOW TO ADD AN IMAGE"
-GO TO "aboutwhatmichelledo" DIV CLASS SECTION PUT THIS TAG:
GO HERE TO KNOW HOW TO ADD AN IMAGE
-MAKE SURE YOU MAKE THE WIDTH OF THE IMAGE 100px and HEIGHT 50px;
"HOW TO CHANGE THE CONTENT OF THE DIV"
-to do that..
Ctrl+F
(
Apple F for Macs
) and type in the find box
just write about yourself
here.
-to change the title section headers in the "aboutwhatmichelledo" div go
Ctrl+F
(
Apple F for Macs
) h1 and you will section 1, etc and delete that and change it.
"HOW TO CHANGE THE MUSIC PLAYLIST"
-GO TO PROJECTLIST.COM
-SIGN UP AND ALL THAT AND START BUILDING YOUR PLAYLIST
-ONCE YOU GOT THE CODE OF THE PLAYLIST LOOK FOR THE WIDTH AND HEIGHTS OF THE PLAYLIST
AND CHANGE THE WIDTH TO 307PX AND THE HEIGHT 307PX.
-HIGHLIGHT THE PLAYLIST CODE FROM THE WORDS THE OPENING TAG OF OBJECT TO THE CLOSING OBJECT TAG. IGNORE THE REST OF THE CODE. ERASE ALL CODING AFTER THE
-
ENJOY!
"MY RESOURCES"
-HUGE THANKS TO
BASSTAR
, AND TO ALL THOSE CREATEBLOG USERS WHO SUGGESTED ME ON HOW TO MAKE IT LOOK MORE BETTER. :) IT DOES! THANK YOU ALL.
click here how to work on your friends
-http://img212.imageshack.us/img212/2934/howtohp7.png
Using This Layout
For specific instructions read designer's comments
This is a div overlay layout, html knowledge required!
1. Log into myspace.com
2. Click on

Edit Profile (Profile 1.0)

3. Copy

(ctrl c)

and paste

(ctrl v)

code to the specified fields
Update Friend ID
Input Friend ID to automagically update code
Layout Code
Copy and paste to About Me
Layout Code
Copy and paste to I'd Like to Meet
Layout Comments
Showing latest 10 of 48 comments
amazing layout!
u did an amazing job putting it together
the playlist wont show up. isigned up for evrything. and when icopy the code in. it doesnt show up. Help me please!
im using this lyt. myspace.com/253425636. iluv it
i don't have the file to edit the header image anymore, sorry.
i like this layout alot i was woundering if yu can do me a big favor and make the same one but in purple and instead of it sayin compulsion can it say nothing at all or can yu write love or my name instead plz get back at me asap even if its a no just let me noe thank you lots
Sorry I called you dude. I didnt realize you were a girl. :P This is an amazing layout. :D
Dude, I have to say, this has got to be one of the most amazing layouts I have ever seen!
wow this is really cool. using it!
Thanks for the layout!!!
its the bomb!!!!!!!!!!!
but i still cant put my playlist...help please??
Hey!
Sweet Layout Lol.
I'm Like kissing Ass Lol..
If I Send U My Playlist Code Will U Help Me?
To put it on my profile?
please?

View all »
Layout Details
| | |
| --- | --- |
| Designer | michellekdo |
| Submitted on | Oct 31, 2008 |
| Page views | 47,483 |
| Favorites | 300 |
| Comments | 48 |
| Reviewer | jaeminnie |
| Approved on | Oct 31, 2008 |
Layout Tags
Layout Tools
Layout Affiliates