Porcelain Royalty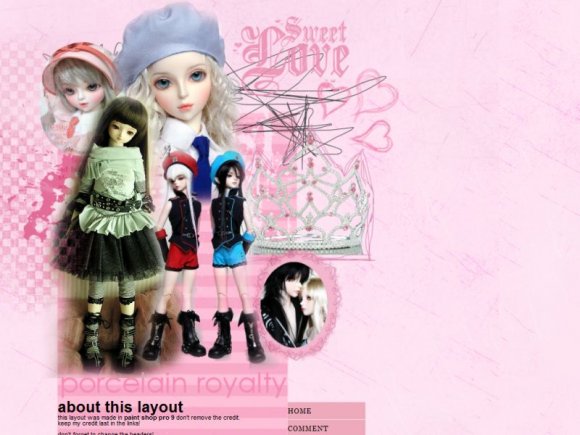 Designer's Comments
Look carefully for specific instructions
im a top layout contributor
click here to find out what that means :)
DETAILS
name; "Porcelain Royalty"
made in; PAINT SHOP PRO 9
by; EMMIJANE
rollovers; no
thought behind it; i keep looking at these amazing layouts on here that have inspired me to try and make one like them.. so this was my expirement. i don't really like it at all. but maybe someone else will.
RESOURCES
pictures;
001
brushes/textures;
002
003
004
005
any other textures, or other brushes most likely made by me.
instructions.
1. PASTE CODES INTO SELECTED AREAS WHEN YOU GO TO 'EDIT PROFILE' FOR MYSPACE.
2. DO NOT SAVE YET. REPLACE ALL XXXXXXX's WITH FRIEND ID. YOU WILL FIND THESE IN THE 'navigation.' SCROLL BOX AT THE BOTTOM OF THE CODE THAT GOES IN 'WHO I'D LIKE TO MEET'. IF THERE IS A FRIEND BOX, EDIT THOSE LINKS BEFORE YOU SAVE ALSO.
3. SAVE, OR DO NOT. YOUR CHOICE. I RECOMMEND NOT.. BECAUSE YOU STILL HAVE TO REPLACE ALL THE SAMPLE CONTENT WITH YOUR OWN.
4. REPLACE ALL CONTENT I WROTE IN WITH YOUR OWN STUFF.
5. LEAVE THE CREDIT ON THERE. SAVE.
6. ENJOY THE LAYOUT!
AS ALWAYS;
no redistributing! DO NOT TAKE ANY OF MY DESIGNS AND CLAIM THEM AS YOUR OWN, DO NOT TAKE ANY OF MY CODES TO USE WITH YOUR, OR ANYONE ELSES DESIGN.
i finally found all the links to the brushes it took me hours.
Using This Layout
For specific instructions read designer's comments
This is a div overlay layout, html knowledge required!
1. Log into myspace.com
2. Click on

Edit Profile (Profile 1.0)

3. Copy

(ctrl c)

and paste

(ctrl v)

code to the specified fields
Update Friend ID
Input Friend ID to automagically update code
Layout Code
Copy and paste to About Me
Layout Code
Copy and paste to I'd Like to Meet
Layout Comments
Showing latest 9 of 9 comments
Hi I am new to this so I hardly know what to do with this div layouts. But I am eager to learn because hey are awesome!!!. Especially this one. very simple. is there any way that you ot anyone here can tell me where I edit MY FRIENDS?
this is so pretty! i love the pink it goes well and the scribbles do also! :D
I did like this layout because I thought it was pretty but the ugliness of the person who made it just ruins things.

Rudeness is really out of place here. I honestly agree that the layout could be a bit better if theadvice was followed but you know? You can tell someone not to cross the street but they wont listen to you till they are roadkill. :p

My advice, not that you'll listen to it, is that if you didnt want any interaction with the opinions or needs of others then you shouldnt have posted your layout on a public site. Just make them and go hide in a dark hole if you are that aggrivated by people.
i wasn't trying to be rude, and i wasn't offended. i was just making it quick because im tired of other people opinions. if other people think it would look better certain ways then they should have done it themselves not constructively criticize my own work.
It was merely constructive criticism. That's what these comments are for. I'm sorry if you thought I was trying to be rude, that was never my intention.
1st - lol i knew what they were made of in the first place but i wasnt gonna call it resin royalty.

2nd - idc what you would have thought would have looked nicer with the layout. i like it like this kay & thanks.
Like HeavenlyKai said, these dolls are actually made of resin, not porcelain. Also the Volks girlie in the black and blue outfit seems a little out of place amongst the Dream of Doll kids. I think it would look nicer if all the images by the same company or photographer. Aside from that it's a cute layout and I definitely plan on using it. :D
It should be called Resin Royalty, since those dolls are made out of Resin. It would be so cute! Still cute though. I haven't seen a single BJD layout until this one. n___n!!
I wonder to myself where do you get your Ideas from?
I love this.
Nothing kicks in.

Layout Details
Layout Tags
Layout Tools
Layout Affiliates